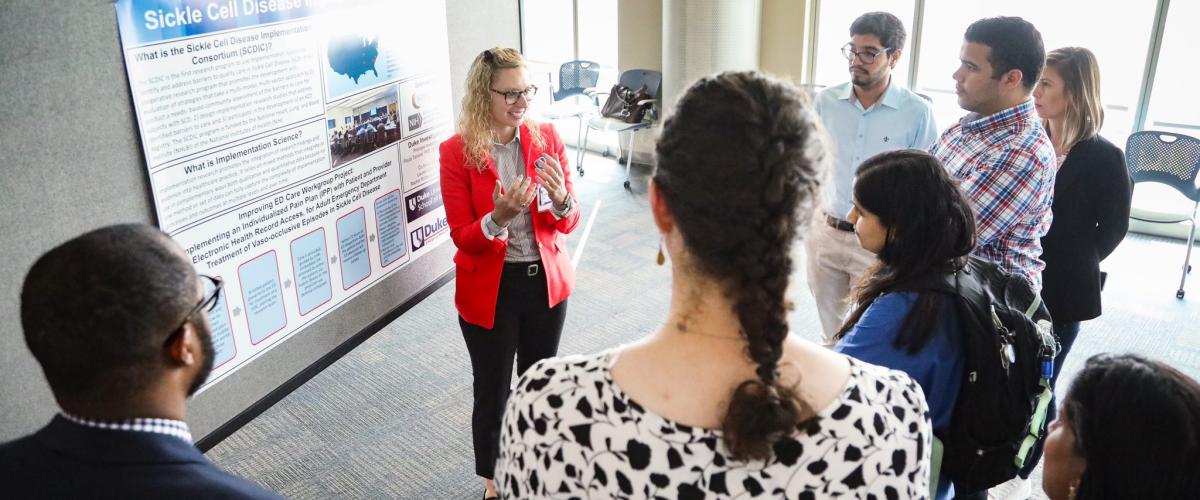 Improving Global Emergency Medicine
The Emergency Medicine Residency Program provides a wealth of research opportunities for residents interested in improving emergency care on a global scale.
Acute Care Research
Our Acute Care Research Team performs site-based clinical research. This team has enrolled emergency department patients for industry, National Institutes of Health, Agency for Healthcare Research and Quality, and investigator-initiated projects, including randomized controlled interventional trials, trials with complex clinical care protocols, studies of diagnostic tests, and registry trials.
Global Health Research
Duke's Emergency Medicine Global Health section and program specializes in conducting healthcare quality improvement and public health–minded research specifically in low- and middle-income settings. Led by Dr. Catherine Staton, the EM Global Health research program works mainly in Moshi, Tanzania at Kilimanjaro Christian Medical Center and with collaborators in Brazil.
Ultrasound Research
The orientation technology used in a Nintendo Wii controller inspired Dr. Josh Broder, Associate Professor of Surgery, to develop a novel ultrasound device that incorporates a small $10 microchip to translate 2D ultrasound devices into 3D imaging systems for rapid, point-of-care diagnostic imaging. With this innovative technology, the Duke Ultrasound team won the inaugural Point-of-Care Ultrasound (POCUS) Research Challenge launched by the Emergency Medicine Foundation and GE Healthcare.
Duke Acute Care Technology Laboratory
Led by Daniel Buckland, MD, PhD, a physician in the Department of Emergency Medicine and Assistant Professor of Mechanical Engineering, the focus of the Duke Acute Care Technology Laboratory (DACTL) is on the development of safety critical technology solutions for acute medical conditions at the interface of Data Science, Robotics, and Human Health. The lab has a special interest in resource-limited operations, including human spaceflight, rural medicine, wilderness medicine, or even well-resourced academic medical center emergency rooms when dealing with the logistics of operating in the current era of medical care.