The Duke Department of Emergency Medicine is proudly accredited to provide services in several areas of care.
Level 1 Trauma Center
Level 1 Trauma Centers can provide the highest level of care for a patient presenting after a traumatic injury. Duke University Hospital is one of six Level 1 Trauma Centers in the state of North Carolina.
Advanced Comprehensive Stroke Center
Duke University Hospital is an accredited Advanced Comprehensive Stroke Center (CSC), the highest level of certification for hospitals with specific abilities to receive and treat the most complex stroke cases.
Duke Regional and Duke Raleigh Hospitals are both Advanced Primary Stroke Centers. 
Hyperbaric Medicine
The Duke Center for Hyperbaric Medicine and Environmental Physiologyis the Southeast's regional referral center for Hyperbaric Medicine. It is a multi-place, critical care-oriented, hyperbaric facility available 24 hours a day.
ELSO Center of Excellence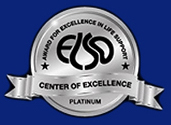 Outstanding ECLS centers around the world receive the ELSO Award of Excellence, which signals a commitment to quality, systems, patients and families, and ongoing improvement.
Duke University Hospital is a Center of Excellence - Platinum Level.