Our faculty have been recognized through numerous grants and research awards.
Over the years we have presented and published studies on topics ranging from sickle cell disease, pain management, toxicology/envenomations, critical care, emergency medical systems, wound care, cardiovascular care, geriatrics, education, pneumonia, HIV, hypertension, emergency radiology, international emergency medicine, trauma, and ultrasound. The Department's faculty hosts national leaders in multiple areas within emergency medicine such as education, emergency medical services, global health, toxicology, ultrasound, geriatrics, administration, observation medicine, and cardiology.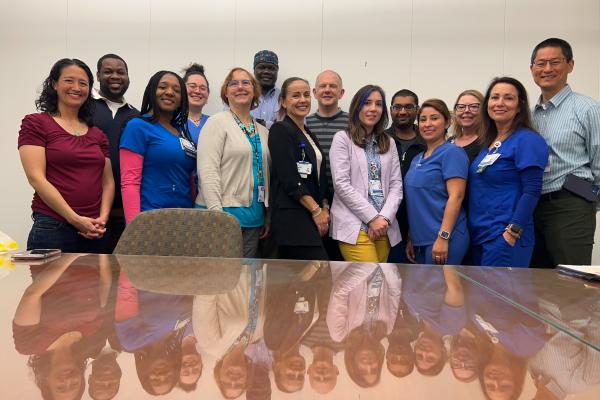 Acute Care Research Team
Our Acute Care Research Team performs site-based clinical research. This team has enrolled emergency department patients for industry-initiated and NIH, AHRQ, and other investigator-initiated projects including randomized controlled interventional trials, trials with complex clinical care protocols, studies of diagnostic tests, and registry trials.
Current Studies
Some examples of our recent clinical research studies are:
Surgical Critical Care Initiative Tissue and Data Acquisition Protocol
The Surgical Critical Care Institute (SC2i) is an entity formed to improve the care of critically injured service men and women by facilitating the development, translation and dissemination of data-driven care models relevant to patients requiring surgery or surgical critical care. This tissue and data acquisition protocol (TDAP) will serve as a repository for collecting clinical data and biological specimens from patients meeting the inclusion/exclusion criteria in support of the SC2i-approved initiatives.
Principal Investigators: Allan Kirk
EM Co-investigator Alex Limkakeng
Sponsor: Department of Defense
Crystalloids Liberal Or Vasopressors Early Resuscitation in Sepsis (CLOVERS) 
CLOVERS is a NIH-funded multicenter randomized controlled trial To determine the impact of a restrictive fluids strategy (vasopressors first followed by rescue fluids) as compared to a liberal fluid strategy (fluids first followed by rescue vasopressors) on 90-day in-hospital mortality in patients with sepsis-induced hypotension.
Hyperbaric Oxygen Brain Injury Treatment (HOBIT)
HOBIT is a NIH-funded multicenter randomized controlled trial to determine, in subjects with severe TBI, whether there is a >50% probability of hyperoxia treatment demonstrating improvement in the rate of good neurological outcome versus control in a subsequent confirmatory trial and to select, in subjects with severe TBI, the combination of treatment parameters (pressure +/- intervening normobaric hyperoxia [NBH]) that is most likely to demonstrate improvement in the rate of good neurological outcome versus control.
3DUS
This is a prospective clinical study of our 3D US-enabling device in Emergency Department (ED) patients with blunt abdominal trauma at risk for hemorrhagic shock. Subjects will have a standard 2DUS FAST exam, followed by a 3DUS exam of the abdomen.
VIPER
Although both snake envenomation and trauma are causes of non-infectious inflammation snake envenomation's inflammatory pathways are poorly described, and it is unclear if these mechanisms mirror other non-infectious causes such as trauma. The purpose of this study is to compare important cytokine mediators of inflammation in crotaline snakebite and trauma patients.
Emergency Department Acupuncture to Reduce Acute Pain and Opioid Use
Acupuncture is increasingly recognized as an effective treatment for pain and anxiety in the clinic setting, but has yet to be established as a primary treatment option in the ED. The purpose of this project is to determine feasibility and acceptability of initiating acupuncture in the Emergency Department (ED) for acute musculoskeletal pain. The overall goal is to reduce acute and subacute opioid use for acute pain, anxiety and disability by expanding non-pharmacologic treatment options at a critical healthcare system entry point.