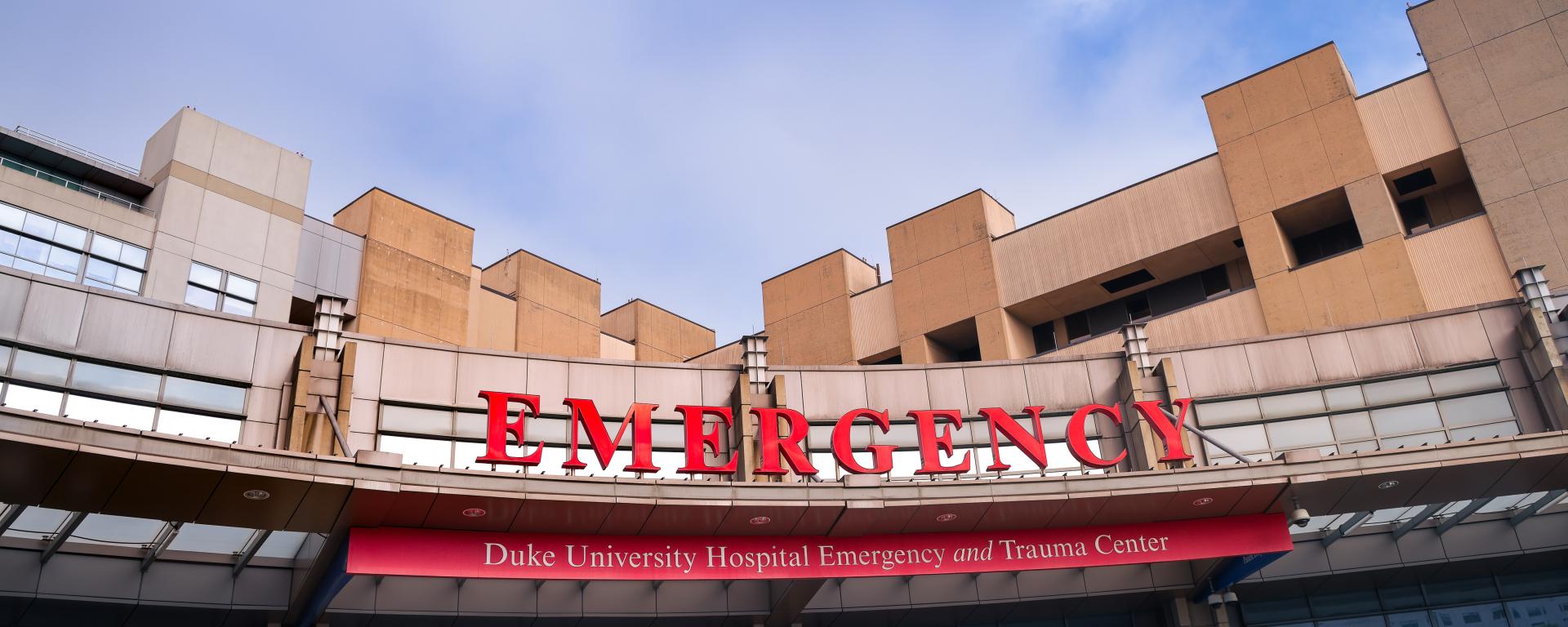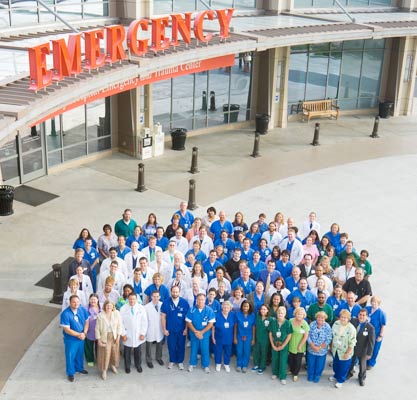 The Duke Department of Emergency Medicine provides high-quality, timely, and compassionate emergency care for patients, ample clinical experience and unsurpassed educational opportunities for residents and fellows, and cutting-edge research that, when combined, consistently improves patient care.
Patient Care
We wish to provide timely, compassionate, and state-of-the-art emergency care for patients and their families. We will do this by accomplishing the following goals:
Role model success by being a united leadership team in a way that supports and encourages an honest, collaborative, innovative, and respectful patient-centered environment
Provide immediate treatment of acutely ill or injured patients
Develop an appropriate and cost effective plan of care for patients, with input from a collaborative, multidisciplinary team so that care to patients and their families is timely and evidence based
Assess and provide analgesia to patients requiring pain control management
Provide patient-focused and family-centered care with an emphasis upon restoring stability and preventing complications.
Provide an environment of care that is safe, respectful, and conducive to patient and family health and well-being
Learn more about our patient care services.
Emergency Medicine Training
Our department will train emergency medicine residents and fellows to become leaders in the field of emergency medicine and to consistently offer excellent care to patients in the emergency department (ED).
Key goals of our education program include:
Train the next generation of emergency medicine physicians to provide timely, compassionate care to patients
Provide an integrative learning experience for all trainees to ensure they can expertly treat the wide range of problems commonly seen in the ED
Encourage residents to become experts in one area of emergency medicine
Cultivate a sense of community between trainees and the Duke Emergency Medicine faculty
Provide opportunities for trainees to respond to global emergencies and provide care in areas of limited resources
Explore emergency medicine training opportunities.
Research
We encourage innovative research that helps us understand our field better and allows us to provide better, state-of-the-art care to all patients in the ED.
Key goals of our research program include:
Collaborate with physicians throughout the Duke University Health System in order to investigate care across a number of disciplines
Encourage residents and fellows to actively pursue research endeavors under the mentorship of our department faculty
Publish papers and present our research at conferences throughout the U.S. and the world
Learn more about our research endeavors.