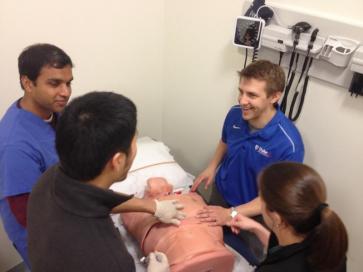 Teaching is one of our many passions at Duke Emergency Medicine. We take great pride in training the future of emergency medicine. That means you!
Rotating at Duke offers the opportunity to experience one of the nation's top 10 hospitals, care for a diverse patient populations, gain outstanding exposure to critical care, and develop procedural skills.
Didactic Learning
Our sub-internship (Surgery 402) is specifically designed for students pursuing emergency medicine as a career choice. It provides not only a rich clinical experience, but also individual mentorship by faculty and a wide array of unique didactics:
Resuscitation: work alongside a resident dedicated to the critical care area in the emergency department
Ultrasound: develop skills in image acquisition, interpretation, and quality control
Airway: practice using video-assisted and fiber optic devices on airway mannequins
Simulation: manage critical care scenarios on high-fidelity simulators
Hyperbaric medicine: learn about the management of dive injury and carbon monoxide poisoning here at the Southeast's regional referral center
Former Medical Student Clerkship Director David C. Gordon, MD was awarded the American College of Emergency Physicians 2015 National Faculty Teaching Award. This is a tribute to Dr. Gordon's incredible talents and commitment to our residents and students over the years. Dr. Gordon is a nationally recognized expert in cognitive errors in emergency medicine and has lectured on this topic at the national meetings of the Society for Academic Emergency Medicine and Council of Residency Program Directors in Emergency Medicine. In 2015, Dr. Gordon helped to produce a video with the Emergency Medicine Residents Association (EMRA), Clerkship Directors in Emergency Medicine (CDEM), and Society for Academic Emergency Medicine (SAEM) on best techniques for presenting patients in the Emergency Department (below).
Learning in Action