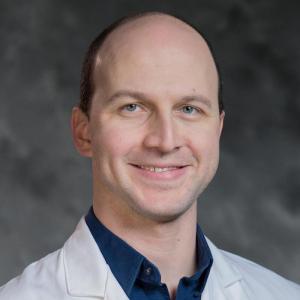 Principal Investigator
Assistant Professor of Surgery
Assistant Professor in the Thomas Lord Department of Mechanical Engineering and Materials Science

Contact Information
Campus Mail: DUMC Box 3096, 2301 Erwin Road, Durham, NC 27710
Overview
Led by Daniel Buckland, MD, PhD, a physician in the Department of Emergency Medicine and Assistant Professor of Mechanical Engineering, the focus of the Duke Acute Care Technology Laboratory (DACTL) is on the development of safety critical technology solutions for acute medical conditions at the interface of Data Science, Robotics, and Human Health. We have a special interest in resource-limited operations, including human spaceflight, rural medicine, wilderness medicine, or even well-resourced academic medical center emergency rooms when dealing with the logistics of operating in the current era of medical care.
We are engineers and physicians collaborating on solving acute clinical problems through technology.
Program Highlights
NASA-funded study to develop an autonomous IV placement robot
Data Science projects predicting near-term health outcomes with the Duke Institute for Health Innovation (DIHI) and the Laboratory for Transformative Administration (Dept of Surgery)
Development of drone networks to deliver medical care to Durham-area patients
Members
Daniel Buckland
Brandon Ruderman
PhD Student: Siobhan Oca
PhD Student: Nicolas Garside
AI.Health@Duke Fellow: Hamed Zaribafzadeh
AI.Health@Duke Fellow: Connor Davis
Selected Achievements
Development of drone networks to deliver acute medical care to reduce time to care over existing EMS systems.
Starks, M.A., Blewer, A.L., Sharpe, E., Van Vleet, L., Riley, J., Arnold, E., Slattery, J., Joiner, A., Buckland, D.M., Ye, J. and Mark, D., 2020. Bystander performance during simulated drone delivery of an AED for mock out-of-hospital cardiac arrest. Journal of the American College of Cardiology, 75(11 Supplement 1), p.303.
Ye, J.J., Zhang, C., Vissoci, J.R.N. and Buckland, D., 2019. Optimizing a Drone Network to Deliver Naloxone. Annals of Emergency Medicine, 74(4), p.S64.
Buckland, D.M., Mark, D.B., Banerjee, A.G., Snyder, K. and Starks, M.A., 2019, March. Design Considerations for UAV-Delivered Opioid Overdose Interventions. In 2019 IEEE Aerospace Conference (pp. 1-7). IEEE.
Ongoing Collaborations
Advanced Training
Able to consider clinical or research fellowships in medical technology development.
Collaborate with Us
Please contact Dan Buckland (dan.buckland@duke.edu) for more information or potential collaborations.
Lab Website
Visit the Duke Acute Care Technology Laboratory website for up-to-date news and job openings for students.
Publications and Funded Projects
View Dr. Buckland's profile to see his publications and funded projects.