The Duke Department of Emergency Medicine is committed to creating an environment of equity and inclusiveness for the patients that we serve.

We understand that the care we provide to our communities does not end at the point of discharge but continues as our patients engage in their everyday lives. Our faculty and residents collaborate with institutional and community leaders to address some of the most pressing concerns for our patients.
We advocate for the equitable treatment of marginalized populations by understanding the factors that lead individuals and institutions to deliver biased care. Through an organized health equity curriculum, implicit bias training, and research projects, our aim is to address the barriers that exist and find innovative ways to overcome them. Our faculty and residents remain resolute in our goal of providing the very best care to every patient we see, and we are guided by our belief that this is what every patient deserves.
We seek to ensure a learning environment for residents and students that is safe and welcoming. We celebrate diversity of thought, experiences, and backgrounds. We believe that this diversity is essential to our success as an institution, but more importantly in our ability to connect with the citizens of Durham and more broadly to the rest of the world. 
As the Duke Department of Emergency Medicine continues to grow, we stand firm in our mission of creating an environment where diversity is essential, equity is the expectation, and inclusion is the culture.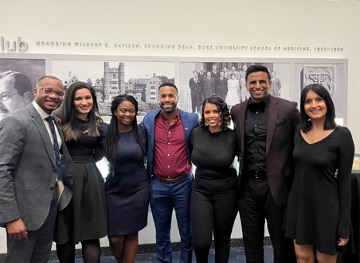 Mission
Ensuring the recruitment, retention, and success of diverse faculty, APPs, and residents
Provide educational opportunities to address disparities in health care 
Advanced research in the field of DEI to better serve the greater community
Facilitate opportunities for community engagement to target health inequity among minority groups
Help create a culture of equity by fostering an inclusive professional environment
 
Events and Initiatives
Emergency Medicine Day of Service

This is an annual event where the residency program reserves a conference day for the service of the Durham Community. The day starts with a beautification project by cleaning and landscaping Durham Central Park and continues with a panel of community workers and health professionals who offer information about the services that are available for the patients we serve.

Mentorship through pipeline/pathway programs

City of Medicine Academy Outreach

City of Medicine Academy is a primarily minority high school that is medically focused. We have been lucky enough to conduct educational sessions with students who are interested in a career in medicine, including topics such as time management, organizational skills, obtaining mentorship, balancing academics and social life, and so much more.
Health Professions Recruitment and Exposure Program (HPREP)
North Carolina Central University Pre-med mentorship

Equity-based operations – Social needs screening & referral (ParallelED)

ParallelED is a program in which Duke undergraduates interview patients in the emergency department waiting room to screen for unmet social needs like transportation, housing, prescriptions, food, utility bills, and the like. If needs are identified, students provide in-person resources and offer patients the opportunity to sign up for referrals through NCCare360, an online resource from the North Carolina Department of Health and Human Services that connects people with community services. To date, the program has screened nearly 1,000 patients, with more than 80% having at least one unmet need, and more than half of those enrolling in NCCare360.
Health Equity Research Platform to Advance DEI
NIH/NINDS U24 Diversity Supplement
EMF grant (GIS Durham COVID) 
Parallel ED – address medical and social needs in parallel
EMS disparities in care
Sickle Cell Implementation Science
EPPIC-Net U24 Supplement Grant
Other non-research scholarship

COVID-19 vaccine and faith-based community presentations
Steering Committee
Resident representatives:
Cody Hill, MD
Rico Beauford, MD
Sekar Novika, MD
Nina Angeles, MD
Get Involved
Durham Central Park 
Root Causes
Questions or Issues?
If you ever experience any issue or have any questions, please contact em_jedi@duke.edu.