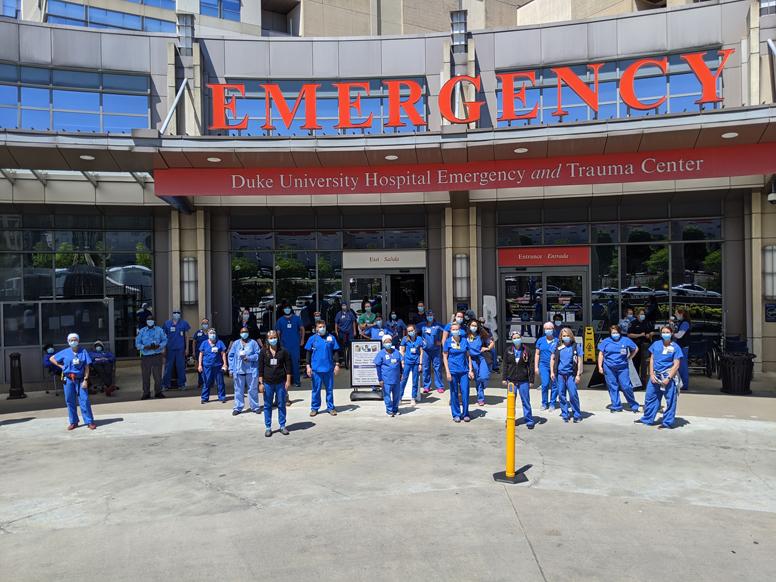 Photo: The Emergency Medicine team practices social distancing during the Thank You Duke Health parade.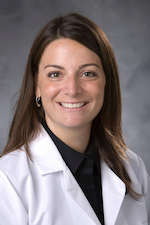 As a front-line responder, Dr. Catherine Staton has experienced first-hand the stress associated with the COVID-19 pandemic. When the pandemic hit, she says emergency medicine providers were overwhelmed with a lot of information about the risks associated with the SARS-CoV-2 virus. This explosion of information led to trepidation about becoming infected themselves and possibly bringing the virus home to their families.
"There was a lot of information going around in the press and within emergency medicine groups that was really terrifying about how deadly this could be and the impact not only on our local community, but also the emergency medicine community," says Dr. Staton.
"As a front-liner, we do not always know when people are sick. We want to make sure that we are prepared when it comes to personal protective equipment (PPE) and that we understand how to treat patients. We also want to make sure that we have the wellness within our providers that we need so that we can take care of ourselves, our families, and our patients."
To help manage the stress of caring for patients in the emergency department during the COVID-19 pandemic, the emergency medicine team launched a Resiliency Working Group for faculty and staff. Data have shown that providers who take care of themselves take better care of their patients with improved patient outcomes. By focusing on their mental health and physical well-being, the team is better prepared to make care decisions. The working group particularly promotes coping mechanisms for handling the pressure of treating critically ill patients in the COVID-19 intensive care unit.
"We started looking into how we could improve wellness and resiliency within our staff," says Dr. Staton. "One of the big things that has been very stressful is education so if we are emboldened with education and we understand what's happening with this disease, we're probably going to be able to treat patients better and know how to protect ourselves and our families."
She says the inspiration for the working group originated from a program called "Conversations With Colleagues" from the Departments of Medicine and Anesthesiology. In this program, providers are able to talk about their feelings and emotions as they relate their experiences caring for patients during the pandemic. Providers are encouraged to reframe their thinking to embrace more positivity, and this shift to a more positive outlook can have the same effect as taking an antidepressant.
Dr. Staton says Duke University Health System as a whole has demonstrated extraordinary teamwork in the face of the COVID-19 crisis. The team in the emergency department has been incredibly close, and every team member supports one another. She says watching others help their team members repeatedly and precisely take PPE on and off throughout the day every day is incredible to witness.
"It's obviously the riskiest time donning and doffing PPE and being able to make sure that you do it in a way that you don't get contaminated, but for them to master it and to make sure that we're all protected, it's a wonderful thing to see," she says.
Thanks to the Resiliency Working Group, the team also benefits from improved communication with more face-to-face time when most forms of communication have become virtualized. With weekly check-in meetings, an e-newsletter, and a website, these forms of communication offer wellness resources, social events, and much-needed comic relief. From weekly luncheons to virtual comedy shows, guitar solos, a book club, a knitting club, the group makes time for social events to stay connected and to relieve their stress.
"We do it just to make sure that any activity we do together would be a way that we can show gratitude and appreciation," says Dr. Staton. "We're so incredibly grateful for the team that we work with."
Give to Duke Emergency Medicine
The Duke Division of Emergency Medicine relies on individual gifts and philanthropic partnerships to help support our clinical, research, and educational missions and to secure funds for the future.