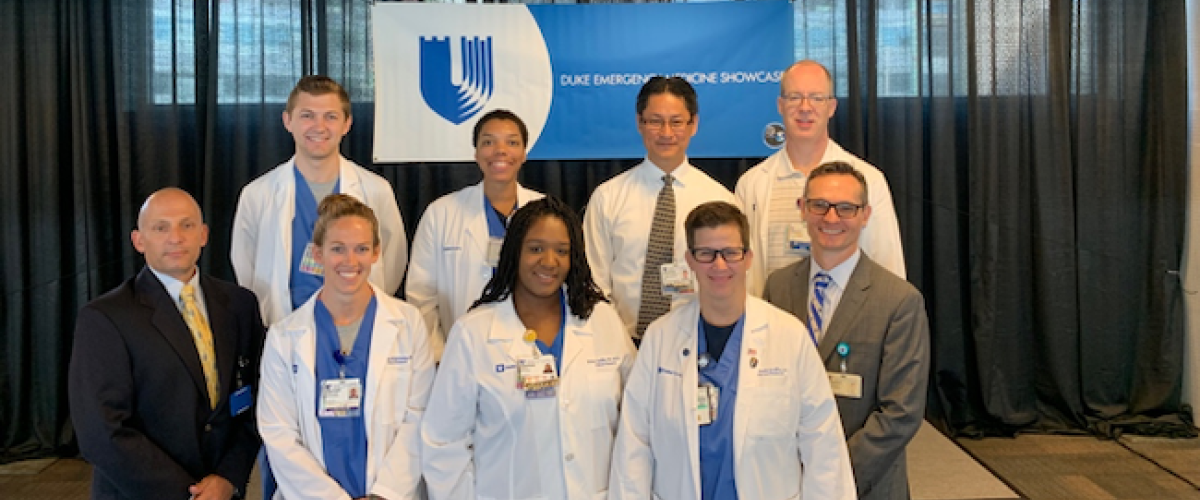 Our Acute Care Research Team performs site-based clinical research.
Our team has enrolled emergency department patients for industry-initiated and NIH, AHRQ, and other investigator-initiated projects including randomized controlled interventional trials, trials with complex clinical care protocols, studies of diagnostic tests, and registry trials. We have published dozens of manuscripts on topics ranging from emergency cardiology, critical care, sickle cell disease, geriatrics, education, pneumonia, HIV, hypertension, emergency radiology, international emergency medicine, trauma, and ultrasound. We further serve as a resource for all emergency medicine faculty projects, including those that do not currently have funding support. This provides faculty with key pilot data to allow more competitive proposals. We also provide a vital infrastructure for supporting our collaborators in infectious diseases, cardiology, neurology, critical care, radiology, hematology, and trauma.
Program Highlights
Below is a partial list of active research studies being conducted by the Acute Care Research Team.
Surgical Critical Care Institute (SC2i): Tissue and Data Acquisition Protocol (TDAP)
The goal of this project is to generate a bank of well-characterized biological samples from human subjects prior to, during or following injury or critical illness for the purpose of subsequent evaluation using new and existing assays and decision support algorithms and to analyze samples derived from blood and other biological fluids, tissue biopsy, or urine using new or existing assays and decision support algorithms.
Prevention and Early Treatment of Acute Lung Injury (PETAL) Network
Strategies to Innovate Emergency Care Clinical Trials Network (SIREN) Network
ED Acupuncture
Multiple COVID-19 trials
Members
Faculty
Staff
S. Michelle Griffin
Chandra Quigley
Dana Weeks
Clancy Leahy
Tiffany Smith
Thomas Irons
Diana Parise
Lauren McGowan
Erica Walker
Bria Johnston
Andrew Bouffler
Tiffany Reeves
Selected Achievements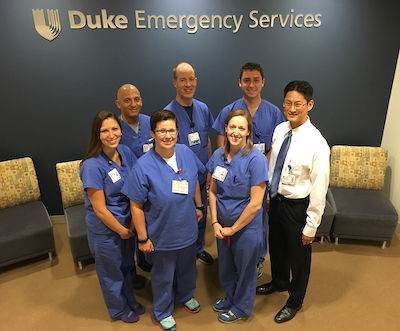 Team Science
Acute Care Research Team has contributed to many fruitful collaborations.  By working with investigators outside of the emergency department, we have been able to advance science in multiple other clinical areas. Because of the diverse nature of emergency care and its central position within the health care system, these publications range in fields as disparate as critical care, infectious diseases, and environmental exposures.  The common theme is that patients were identified and enrolled in the emergency department.  Below are but a few examples of the many research teams we have assisted.
Kor DJ, Carter RE, Park PK, et al. Effect of aspirin on development of ards in at-risk patients presenting to the emergency department: The lips-a randomized clinical trial. JAMA. 2016. doi: 10.1001/jama.2016.6330.
Hoffman K, Butt CM, Chen A, Limkakeng AT Jr, Stapleton HM. High Exposure to Organophosphate Flame Retardants in Infants: Associations with Baby Products. Environ Sci Technol. 2015 Dec 15;49(24):14554-9. doi: 10.1021/acs.est.5b03577. Epub 2015 Nov 19. PubMed PMID: 26551726.
Langley RJ, Tsalik EL, van Velkinburgh JC, Glickman SW, Rice BJ, Wang C, et al. An integrated clinico-metabolomic model improves prediction of death in sepsis. Sci Transl Med. 2013;5(195):195ra95. Epub 2013/07/26. doi: 10.1126/scitranslmed.3005893. PubMed PMID: 23884467; PubMed Central PMCID: PMC3924586.
Phillips S, Stanley L, Nicoletto H, Burkman M, Laskowitz DT, Cairns CB. Use of emergency department transcranial Doppler assessment of reperfusion after intravenous tPA for ischemic stroke. J Emerg Med. 2012;42(1):40-3. Epub 2008/12/30. doi: 10.1016/j.jemermed.2008.06.028. PubMed PMID: 19111426. 
Septic Shock
After the initial report that early goal-directed therapy can reduce mortality in patients with septic shock in 2001, there remained the question of whether all elements of the reported protocol were necessary or whether a more simplified version would provide similar benefits. The Acute Care Research team led Duke University's involvement in ProCESS, a multi-center randomized controlled trial of early goal-directed therapy for patients with septic shock, funded by NIGMS.
Kellum JA, Chawla LS, Keener C, Singbartl K, Palevsky PM, Pike FL, Yealy DM, Huang DT, Angus DC; ProCESS and ProGReSS-AKI Investigators-Limkakeng AT. The Effects of Alternative Resuscitation Strategies on Acute Kidney Injury in Patients with Septic Shock. Am J Respir Crit Care Med. 2016 Feb 1;193(3):281-7. doi: 10.1164/rccm.201505-0995OC. PubMed PMID: 26398704; PubMed Central PMCID: PMC4803059.
ProCESS Investigators- Limkakeng AT, A randomized trial of protocol-based care for early septic shock. N Engl J Med. 2014 May 1;370(18):1683-93. PMID: 24635773; PMCID: PMC4101700.
Pike F, Yealy DM, Kellum JA, Huang DT, Barnato AE, Eaton TL, Angus DC, Weissfeld LA; ProCESS Investigators- Limkakeng AT. Protocolized Care for Early Septic Shock (ProCESS) statistical analysis plan. Crit Care Resusc. 2013 Dec;15(4):301-10. PubMed PMID: 24289512. PMCID: PMC4081520
Snake Bite
Snake bite envenomations occur frequently in North Carolina due to the indigenous wildlife population of copperhead snakes. Duke led a multi-site study in the testing of an FDA-approved anti-venom.
Lavonas EJ, Gerardo CJ; Copperhead Snakebite Recovery Outcome Group. Prospective study of recovery from copperhead snake envenomation: an observational study. BMC Emerg Med. 2015 May 15;15:9. doi: 10.1186/s12873-015-0033-6. PubMed PMID: 25975429; PubMed Central PMCID: PMC4449608.
Gerardo CJ, Scott Evans C, Kuchibhatla M, Mando-Vandrick J, Drake May Yen WG, Kopec K, et al. Time to Antivenom Administration Is Not Associated With Total Antivenom Dose Administered in a Copperhead-predominant Snakebite Population. Acad Emerg Med. 2015;22(3):308-14. Epub 2015/03/03. doi: 10.1111/acem.12598. PubMed PMID: 25728451.
Lavonas EJ, Gerardo CJ, O'Malley G, Arnold TC, Bush SP, Banner W Jr, Steffens  M, Kerns WP 2nd. Initial experience with Crotalidae polyvalent immune Fab (ovine) antivenom in the treatment of copperhead snakebite. Ann Emerg Med. 2004 Feb;43(2):200-6. PubMed PMID: 14747809.
Gerardo CJ, Lavonas EJ, McKinney RE. Ethical considerations in design of a study to evaluate a US Food and Drug Administration-approved indication: antivenom versus placebo for copperhead envenomation. Clin Trials. 2014 Oct;11(5):560-4. doi: 10.1177/1740774514543538. Epub 2014 Jul 23. PubMed PMID: 25055811.
Hypertension
Hypertension is both an acute and chronic health problem affecting millions worldwide. Our team has contributed to the understanding of the optimal means for addressing patients with acute hypertensive emergencies.
Freiermuth CE, Chandra A, Peacock WF; Site Investigators*- Limkakeng AT Jr.  Characteristics of Patients That Do Not Initially Respond to Intravenous Antihypertensives in the Emergency Department: Subanalysis of the CLUE Trial. West J Emerg Med. 2015 Mar;16(2):276-83. doi: 10.5811/westjem.2015.1.23308. Epub 2015 Mar 17. PubMed PMID: 25834670; PubMed Central PMCID: PMC4380379.
Peacock WF, Chandra A, Char D, Collins S, Der Sahakian G, Ding L, et al. Clevidipine in acute heart failure: Results of the A Study of Blood Pressure Control in Acute Heart Failure-A Pilot Study (PRONTO). Am Heart J. 2014;167(4):529-36. Epub 2014/03/25. doi: 10.1016/j.ahj.2013.12.023. PubMed PMID: 24655702.
Peacock WF, Varon J, Baumann BM, Borczuk P, Cannon CM, Chandra A, et al. CLUE: a randomized comparative effectiveness trial of IV nicardipine versus labetalol use in the emergency department. Crit Care. 2011;15(3):R157. Epub 2011/06/29. doi: 10.1186/cc10289. PubMed PMID: 21707983; PubMed Central PMCID: PMC3219031.
Cardiac Biomarkers
For decades, researchers have been searching for diagnostic tests and combinations of patient characteristics that would allow safe discharge of patients without prolonged observation in the hospital.  Biomarkers are one area of continuing active research.  We served as a collaborator on a large, multi-center study of a novel set of biomarkers in a study group titled "CHOPIN". 
Marston NA, Shah KS, Mueller C, Neath SX, Christenson RH, McCord J, Nowak RM, Daniels LB, Hollander JE, Apple F, Nagurney J, Schreiber D, deFilippi C, Diercks D, Limkakeng A, Anand IS, Wu AH, Jaffe AS, Peacock WF, Maisel AS. Serial sampling of copeptin levels improves diagnosis and risk stratification in patients presenting with chest pain: results from the CHOPIN trial.  Emerg Med J. 2015 Jun 23. pii: emermed-2015-204692. doi: 10.1136/emermed-2015-204692. [Epub ahead of print]
Shah KS, Marston NA, Mueller C, Neath SX, Christenson RH, McCord J, Nowak RM,  Vilke GM, Daniels LB, Hollander JE, Apple FS, Cannon CM, Nagurney J, Schreiber D, deFilippi C, Hogan CJ, Diercks DB, Limkakeng A, Anand IS, Wu AH, Clopton P, Jaffe AS, Peacock WF, Maisel AS. Midregional proadrenomedullin predicts mortality and major adverse cardiac events in patients presenting with chest pain: results from the CHOPIN trial. Acad Emerg Med. 2015 May;22(5):554-63. doi: 10.1111/acem.12649. Epub 2015 Apr 23. PubMed PMID: 25908114.
Maisel A, Mueller C, Neath SX, Christenson RH, Morgenthaler NG, McCord J, Nowak RM, Vilke G, Daniels LB, Hollander JE, Apple FS, Cannon C, Nagurney JT, Schreiber D, Defilippi C, Hogan C, Diercks DB, Stein JC, Headden G, Limkakeng AT Jr, Anand I, Wu AH, Papassotiriou J, Hartmann O, Ebmeyer S, Clopton P, Jaffe AS, Peacock WF. Copeptin Helps in the Early Detection of Patients With Acute Myocardial Infarction: Primary Results of the CHOPIN Trial (Copeptin Helps in the early detection Of Patients with acute myocardial INfarction).  J Am Coll Cardiol. 2013 Jul 9;62(2):150-60. doi: 10.1016/j.jacc.2013.04.011. Epub 2013 Apr 30.  PMID: 23643595
Collaborations
Infectious Diseases- ACESO
Neurology - ACTION
Heart Failure - RELAX 2
Critical Care –Andexanet
Ophthalmology – Optical Coherence Tomography
Advanced Training
Our team has served to support 3rd year medical student and resident research projects. We oversee informed consent training for clinical providers and inservice providers as needed for ongoing research studies.