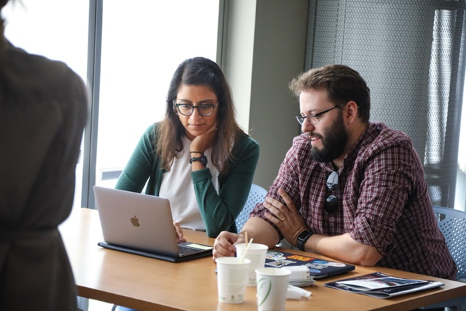 In today's research world, interdisciplinary collaborations are more important than ever. Additionally, it is widely recognized that one of the most challenging aspects of clinical trials is ensuring sufficient enrollment.
Our program is a collaborative resource for investigators seeking to identify and enroll patients for clinical trials.  It is a program of the Duke Emergency Department Acute Research Team with a track record of success. 
What differentiates our program is that we have experienced research program with standard procedures to improve the quality and efficiency of clinical trial enrollment.
Why Recruit in the Emergency Department?
Our enrollment team starts up when yours shuts down.
Patient arrivals to the ED peak in the evening hours.  
We have coordinators screening and enrolling during these hours.
Gain access to potential research participants.
We see patients who have no other contact with the medical system.  
We see patients for a diverse array of emergent and non-emergent conditions.
We see patients with co-morbidities unrelated to the reason for their ED visit.  
The ED is a setting where patients whose medical problems are refractory to initial treatment and those who have acute complications of treatment are frequently seen.  
We sit at the transition between the inpatient and outpatient settings, and thus see patients being treated in both.
Patients often bring family members, who represent a population of healthy controls.
We see a demographically diverse population not seen in other settings.
We see patients before you do.
We encounter patients before any potentially exclusionary interventions have taken place.
As the point of first contact, we can identify patients as early as possible for studies with time-sensitive enrollment protocols.
We can follow-up patients too.
We have extensive experience in obtaining both phone and in-person follow-up on study patients at high rates.
We have the infrastructure to conduct follow-up interviews and basic tests in the ED.
Study Description: ALIAS Part 1 was designed to assess whether 25% albumin (ALB) started within 5 hours of stroke onset would confer neuroprotection in subjects with acute ischemic stroke and baseline National Institute of Health Stroke Scale of ≥ 6. The study comprised 2 cohorts: subjects who received thrombolysis and those who did not, each with 1:1 randomization to ALB or placebo.
Site PI: Daniel Laskowitz
Our Role: Assist in identifying acute stroke patients on arrival, consent, randomize, and administer study drug. Coordinate administrative correspondence with coordinating center. We helped the neurology team identify the only patient that they enrolled at this site.
Ginsberg, M.D., Palesch, Y.Y., Martin, R.H., Hill, M.D., Moy, C.S., Waldman, B.D., Yeatts, S.D., et al., The Albumin in Acute Stroke (ALIAS) Multicenter Clinical Trial, Stroke, 2011, 42(1):119-127.
Current Collaborations
We have been involved in research with the divisions of infectious disease, pulmonology, critical care medicine, cardiology, neurology, and neurosurgery as well as the Duke Global Health Institute and the Duke Institute for Genome Sciences and Policy on projects ranging from sepsis and septic shock, tick borne illness, influenza, asthma and COPD, traumatic brain injury, hypertension, HIV, and acute coronary syndrome.
Some current or recent examples of studies on which we have collaborated include:
Lung Injury Prevention Study with Aspirin (LIPS-A): 
Early Detection of Healthcare Associated Infections Using the Host Response: The purpose of this study is to help define a host response profile for Ventilator-Associated Pneumonia at both the time of clinical symptoms and in the pre-symptomatic phase. Dr.s Geoffrey Ginsburg and Chris Woods co-fund several Acute Care Research Team coordinators' time in this collaborative effort.
Community Acquired Pneumonia and Sepsis Study, CAPSS, For Use With Developing An In Vitro Diagnostic Tool and Predictive Biomarkers: The purpose of this study was to develop a rapid, point-of-care (POC) in vitro diagnostic (IVD for earlier diagnosis of septic shock among patients with suspected sepsis, to identify biomarkers for early diagnosis/prognosis of poor outcome in patients with community acquired pneumonia, and to identify host biomarkers for early differentiation of common etiologic agents in sepsis and community acquired pneumonia. Principal investigator Chris Woods supported and utilized Acute Care Team resources for this NIH-funded study.
How it Works
Our program employs highly trained, full time research coordinators and a variable number of additional research staff. The team has performed many different studies, from diagnostic to therapeutic randomized trials. They can perform blood draws, sample processing and storage, and administer study medicines.  
Scalable Involvement
Our coordinators work with principal investigators in a variety of roles from study conception all the way through to database closure.  Choose "a la carte" services or fund a portion of a coordinator's effort.
Budgeting
IRB submission
Feasibility assessment
Screening
Enrollment
Consent
Protocol initiation
Patient Follow up
CRF completion
An Emergency Medicine faculty co-investigator can assist you with your trial by providing insight into the acute care process, helping you identify patients, and connecting you to key ancillary staff who can screen patients.  They can also act as the "local champion" for the study, educating or in-servicing staff and ensuring that protocols do not interfere with usual care processes.
Collaborate With Duke EM
To collaborate with us, please contact Vice Chair for Research Research, Alexander Limkakeng, MD, MHSc (alexander.limkakeng@duke.edu).
We can work together on a fee schedule that fits your study's budget. Find out why many of our colleagues are exploring the benefits of collaborating with Duke Emergency Medicine.