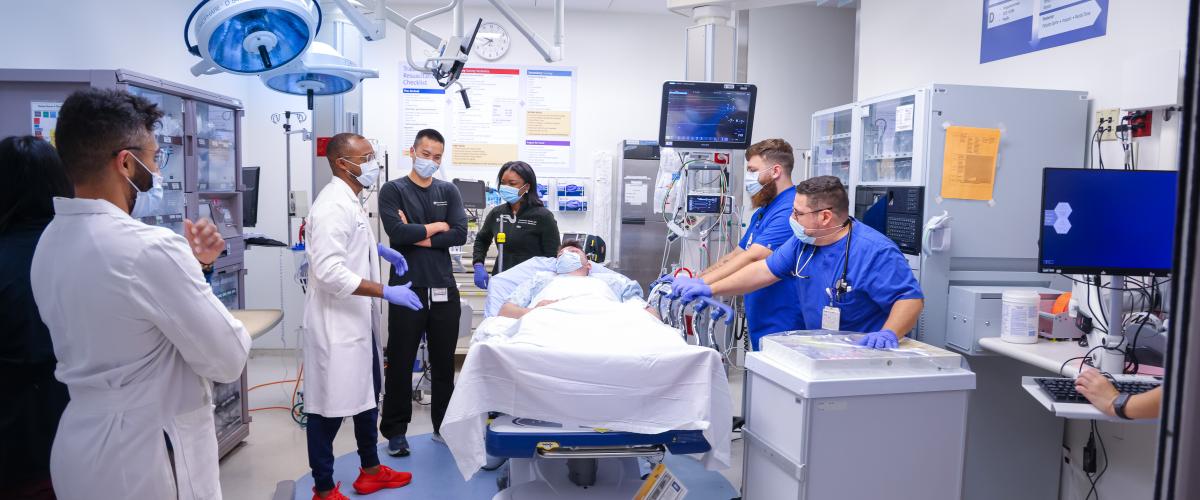 At Duke, resident training is aimed at developing outstanding clinical, research, and leadership skills through clinical rotations and educational programs.
Our residency curriculum covers the core content of emergency medicine as well as cutting-edge emerging evidence for new diagnostic and therapeutic approaches.
Residents in the Department of Emergency Medicine at Duke have access to numerous clinical and research opportunities to prepare them for independent practice. 
The Duke Pediatric Emergency Department provides outstanding care to 15,000 pediatric patients each year, including level 1 pediatric trauma patients. The faculty are diverse experts, with three faculty members who are fellowship-trained and board-certified in Pediatric Emergency Medicine.
Because Duke is a tertiary care medical referral center, trainees will see a tremendous variety of patients. Residents will see children presenting in respiratory distress due to congenital heart disease, vomiting in the setting of adrenal insufficiency, altered mental status due to ventriculoperitoneal shunt malfunction. As with any emergency department, residents will be repeatedly exposed to children with undifferentiated febrile illnesses, abdominal pain, asthma exacerbations, minor closed head injuries (concussions included), and skin lacerations. As such, residents will become very comfortable in the work-up and management of common pediatric complaints, but importantly, able to recognize and treat conditions in medically complex children. This is an ideal training environment for those seeking a well-rounded, robust education in preparation for emergency care of children in any setting post-residency.
Duke residents and attendings care for sick children with skill and compassion. In this video clip about a pediatric patient, family and healthcare workers recall and reflect on the care provided by the Duke Emergency Department and inpatient services. Andrew Parker, MD (Duke Emergency Medicine class of 2012) is featured at 1 minute and 17 seconds, and attending physician Jamie Fox, MD appears at 1 minute and 29 seconds into the clip.
Two notable awards were earned by Pediatric Emergency Medicine at Duke. The Master Teacher/Clinician Award was presented to James W. Fox, MD, Associate Professor of Pediatrics in the Division of Hospital and Emergency Medicine. The award recognizes individuals with superlative accomplishment and service in the areas of clinical care and teaching. Awards are given to recognize clinical practitioners who exemplify the highest standards of clinical care, pedagogy, and professionalism or to basic scientists who achieve distinction in pedagogy and professionalism.
In 2014, the Division of Hospital & Emergency Medicine received the Department of Pediatrics divisional teaching award. The Division has received this honor 5 of the 7 years it has been awarded.
Airway management is central to emergency medicine, and Duke Emergency Medicine residents receive the best possible training. In our simulation lab, realistic airway mannequins allow residents to experience a range of airway anatomy with an array of equipment.  Our residents train in surgical airway techniques using percutaneous kits and surgical techniques, in both high fidelity mannequins and tissue models. Our simulation lab also features hyper-realistic bronchoscopy simulators, allowing residents to safely master flexible fiberoptic techniques for difficult airways. In our department, residents use the Karl-Storz CMAC video system, allowing training in direct as well as video-assisted laryngoscopy.
Simulation is integrated into the residency curriculum, with a full conference day each month dedicated to procedures and resuscitation of pediatric and adult patients in our advanced simulation center. Since January 2013, our simulation center has been located in the new Mary Duke Biddle Trent Semans Center for Health Education. In this state-of-the-art facility, Duke Emergency Medicine residents learn and apply skills in a multi-bed emergency department setting.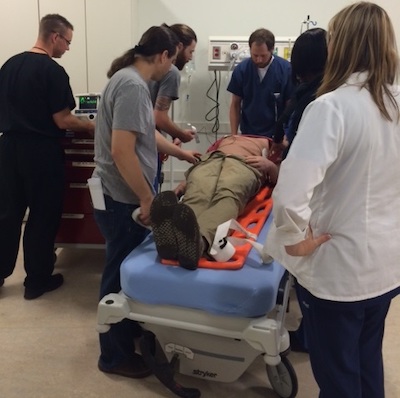 Dr. Thoureen completed Emergency Medicine Residency at Yale University in 2002. She began her career as an educator at Duke before moving to the University of Maryland in 2004. She returned to Duke in 2013.
We are fortunate to have some great high tech tools at our fingertips at Duke. They include:
CAE iStan adult mannequin
Laerdal Simbaby
Central line trainers for subclavian, IJ, and femoral lines, ultrasound compatible
Traumaman for cricothyrotomy, chest tube, pericardiocentesis, DPL, needle decompression, and IV cutdown
Vimedix ultrasound simulator
Levitan airway mannequin heads
SonoSim laptop based ultrasound simulator
Cricothyrotomy trainers
Lumbar puncture task trainer
Sonosite ultrasound
These resources are also incorporated also into the resuscitation rotation during the first and third years of training and the ultrasound curriculum.  We also have a live tissue lab that is available for resident education.
Ultrasound is integral to emergency medicine at Duke. With 12 ultrasound machines in the Emergency Department (including 9 cart-based and 3 handheld units), a full-time director of Emergency Ultrasound, 3 additional fellowship-trained ultrasound faculty, and a high-fidelity ultrasound simulator in our state of the art simulation lab, the residency provides the best in cutting-edge training.
Ultrasound Director Erica Peethumnongsin, MD, PHD

I trained at the University of Wisconsin - Madison Emergency Medicine Residency program and became interested in ultrasound through mentorship from great educators in the field. I recognized during my training how bedside ultrasound can rapidly change a patient's entire clinical course, particularly when resources are limited. After residency, I completed a fellowship in emergency ultrasound at the Georgetown/Washington Hospital Center program and am committed to using the knowledge and skills I acquired to improve patient care and resident education here at Duke.
In 2013, the Duke Emergency Medicine Residency received a Graduate Medical Education Innovation Grant, co-sponsored by the Duke Department of Surgery, for ultrasound simulation systems.  Residents train using high-fidelity ultrasound simulators, enabling them a unique opportunity to learn image acquisition and interpretation.
Below, the Vimedix simulator provides additional hands on training and a range of pathology for Emergency Medicine residents.
"How a $10 Microchip Turns 2-D Ultrasound Machines to 3-D Imaging Devices"
Technology that keeps track of how your smartphone is oriented can now give $50,000 ultrasound machines many of the 3-D imaging abilities of their $250,000 counterparts — for the cost of a $10 microchip.
Medical toxicology focuses on the diagnosis, management or prevention of poisonings. It encompasses a wide range of topics including: pharmaceutical misadventures, drugs of abuse, occupational exposures, envenomations and environmental exposures, radiation, and bioterrorism.
Duke Emergency Medicine has a long history of outstanding clinical care and scholarship in key areas of toxicology: dysbarism and disorders of dive-related supraphysiologic nitrogen absorption (learn more about the hyperbaric center at Duke), carbon monoxide poisoning, and snakebite. We are a leading center for a multicenter study of antivenin for copperhead snakebite, led by Charles Gerardo, MD.
Duke has a long and storied history in the specialty of Undersea and Hyperbaric  Medicine. Learn more about our hyperbaric center and fellowship opportunities.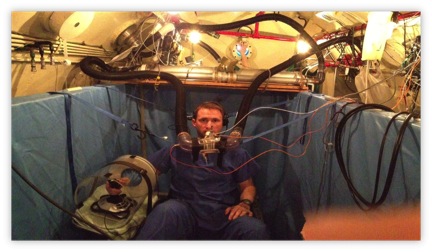 During their training, Duke Emergency Medicine residents work directly with Durham County EMS. The Durham County EMS system provides advanced life support paramedic ambulance service throughout the county as well as first responder support through the City of Durham Fire Department and three volunteer fire departments – Bahama, Lebanon, and Redwood. The system also encompasses the Durham Emergency Call Center, which is the primary safety answering point for all 9-1-1 calls within Durham County.
Durham County EMS is the sole provider of emergency ambulance services in Durham County, responding to approximately 40,000 calls annually. The system staffs 19 ambulances at peak hours of the day (1200-1800), scaling down to 10 ambulances overnight (1200-0600). EMS also provides a number of various support vehicles, including supervisor vehicles, paramedic quick response units, a major incident response vehicle (MIRV-1, with advanced responder rehabilitation and mass casualty capabilities), a tactical emergency medical support (TEMS) unit which provides medical support to the Durham Police Selective Enforcement Team (SET), the Sheriff's Emergency Response Team (SERT), and a CBRNE EMS unit that provides medical support to the Durham Police Department's Biological-Chemical Emergency Response Team (B-CERT).
Medical direction is provided by Medical Director Dr. Anjni Joiner, and Assistant Medical Director Dr. Andrew Godfrey, both Duke EM faculty. They are equipped with an ALS response vehicle equipped with additional equipment to allow them to perform physician-level interventions in the prehospital setting. Duke EM PGY2 and PGY3 residents, as well as faculty, serve as online medical control for Durham County EMS. Ride along opportunities for all residents are available with the Medical Directors.
Medical student education is a major priority in our residency. Our residents routinely teach students in the emergency department and in classroom and simulation settings.
Associate Professor David Gordon, MD serves multiple key roles: Associate Residency Program Director for Emergency Medicine, President of the National Clerkship Directors in Emergency Medicine, and Medical Director for the Clinical Skills Lab, which teaches all Duke Medical Students the fundamentals of performing a history and physical exam. Dr. Gordon is a nationally recognized expert in cognitive errors in emergency medicine.
In this video, Dr. Gordon shares secrets to effective emergency medicine presentations for medical students.
Below, Chief Resident for the Duke Emergency Medicine Class of 2014 Scott Evans teaches medical student during a simulation activity, "Haunted ED." Dr. Gordon developed this concept and presented this as an educational innovation at the annual meeting of the Council of Residency Directors in Emergency Medicine in 2014.