The core content in emergency medicine is covered in a series of monthly topic modules and is taught through case conferences, didactic lectures, simulation, and review of controversial or current literature pertaining to that content area.
Our weekly conference incorporates small group learning, audience response systems to encourage audience participation, regular sessions in our advanced simulation lab, practice opportunities for written and oral board exams, and procedure labs. We have monthly journal club hosted at a faculty member's house.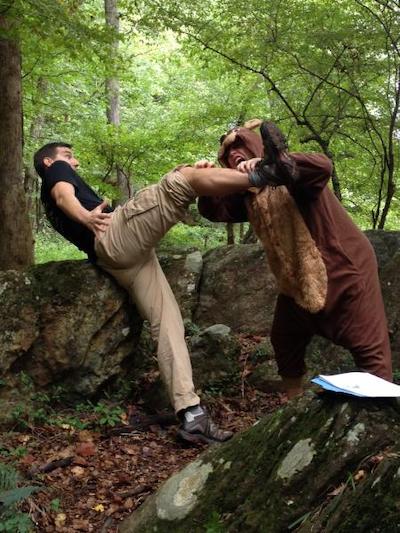 A recent Wilderness Medicine joint conference day brought together faculty and residents from Duke and our neighboring program, the University of North Carolina at Chapel Hill. At left, Duke Emergency Medicine faculty members Jason Theiling, MD, and David Gordon, MD, simulate a bear attack.
Residents will participate in PALS, ACLS, BLS, NRP, ATLS, and ultrasound courses during their training, with the opportunity to become instructors. The residents will also have an opportunity to practice procedures in a cadaver lab and practice resuscitations in Duke's simulation center using the SimMan electronic patient simulator.
Emergency airway is a focus of the curriculum, with dedicated procedure labs scheduled throughout the year.
Evidence-based medicine and research topics are integrated in the curriculum, led by Duke's cutting-edge clinical research faculty.